Design
NURSERY
From the outset, Gregori International has specialized in the construction and operation of nurseries.
Over 50 years of know-how and knowledge of plants and climates make the company an experienced partner in large-scale plant production.
Construction and operation of nurseries
Large-scale plant production
With projects all over the world, the company is developing its activity in plant engineering in the most diverse climates (Mediterranean, equatorial, continental, tropical, sub-Saharan...), growing all types of plants: flowers, fruit, vegetables, trees, shrubs, grass...
Faced first and foremost with climate change, Gregori International brings together its multi-disciplinary knowledge to propose environmental solutions to ensure the long-term preservation of environmental qualities and respect for biodiversity.




Establishment, development and management of project nurseries
Technical challenges to be met
Our mastery of supply in terms of time, quality, quantity and cost means that we are committed to a sustainable approach that minimizes transport.
Quick set-up at the beginning of the project
Sizing to meet all the project's plant requirements
Selection of species best adapted to the natural environment
Continuous multiplication and production
Supply and assembly of nursery structures and irrigation systems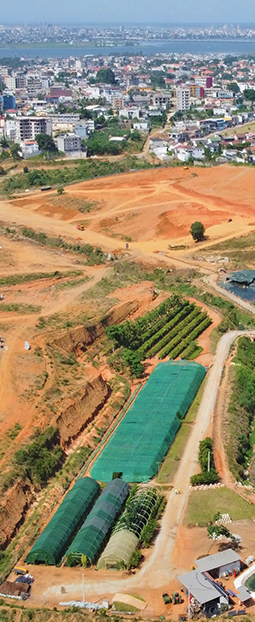 Creator of environmental solutions, we promote large-scale vegetation
Its know-how for more than 50 years and its knowledge of plants as well as of climates make Gregori International an experienced partner in the fields of reconstitution of damaged soils and large-scale reforestation.